TEX-COTE® Since 1961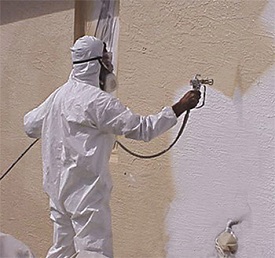 Genuine Tex-Cote® is a thick, durable coating for your home's exterior that replaces the need for constant repainting.
Not only will Tex-Cote® last years longer than regular paint, but it is also 10-20 times thicker and includes a limited factory warranty against flaking, chipping, and peeling for as long as you own your home!
TEX-COTE® - 8 Step Process:
The Genuine Tex-Cote® system is an efficient 8-step application process in order to completely revitalize your home's exterior. We are an authorized Tex-Cote® dealer in Southern California. Applying Tex-Cote® to homes since 1979, MR EXTERIORS, INC. knows all there is to know about Genuine Tex-Cote®, and guarantees that WE AREN'T SATISFIED UNTIL YOU ARE SATISFIED.
❶ Inspection

We completely inspect the outside walls of your home for deterioration and suspect areas.
❷Trenching

We trench around your home. The trenching will help eliminate foundation decay and prevent moisture intrusion once the Genuine TEX•COTE® products are applied.
❸Water Blasting/Sanding

Your entire house is water blasted to remove loose paint, dirt, stains, foreign substances, mold, mildew, and algae. Your home is then sanded and scraped to remove any additional loose and built up paint and debris. Once cleaned, areas in need of patching are revealed.
❹Repair/Patch

Deteriorated areas are patched with specially formulated patching and bonding materials to correct defects and create a sound and uniform surface area.
❺Masking

All doors, windows, landscaping and surfaces not to be coated are carefully covered to prevent overspray and provide the most professional-looking job possible.
❻Primer Applied
Our thick TEX•COTE® primer is applied to your home's exterior.
❼Finish Coat Applied

A thick coating of our special Genuine TEX∙COTE® smooth or textured finish is applied. This finish chemically "fuses" itself to the primer for a second line of defense against the elements.
❽TRIM-COTE® Applied

Once the surface is coated, all trim areas are covered with a specially formulated, highly protective trim paint.

Home | About Us | TEX-COTE® | Windows | Contact Us | Privacy Policy
Contact Information
MR EXTERIORS INC.
Owner/Operator: Michael Rosen
We have been serving all of Southern California since 1979.
Send us an email: Mister Exteriors
Or, call 1-800-735-0663 for a free estimate



Financing Available • OAC
License number: 384095