Company Profile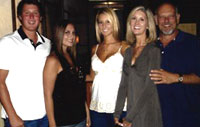 MR EXTERIORS, INC. is a home improvement company dedicated to enhancing the look of your home.
A home is where children grow up, where couples grow old, and where all kinds of great memories are made. MR EXTERIORS, INC.'s mission is to make sure that your own home experience is as beautiful as possible.
Our workmanship speaks for itself with over 33 years of business and hundreds of homes revitalized. From beginning to end, we work directly with each customer to deliver the exact results for the look that you desire for your home. Owner and operator Michael Rosen possesses unwavering integrity, is extremely personable, and will bend over backwards to make sure his customers are completely satisfied. On his off time, Michael enjoys spending time with his family of five and playing Racquetball on the weekend with friends. With a beautiful home of his own that is filled with family and life, Michael understands the importance of keeping it beautiful both inside and out. His mission is to bring his valued customers the same joy he feels from his own home.
Home
|
About Us
|
TEX-COTE®
|
Windows
|
Contact Us
|
Privacy Policy
Contact Information
MR EXTERIORS INC.
Owner/Operator: Michael Rosen
We have been serving all of Southern California since 1979.
Send us an email: Mister Exteriors
Or, call 1-800-735-0663 for a free estimate



Financing Available • OAC

License number: 384095